Octoplus Unlimited Activation (Sony + Sony Ericsson)
Delivery Time: 1-5 munites

Price: DA 9800

Octoplus Unlimited Sony Ericsson + Sony Activation allows you to Flash, Decode, Repair IMEI on UNLIMITED amount of Sony and Sony Ericsson phones using Octoplus Suite software.
This is a pemrmanent activation intended for the owners of Octopus / Octoplus / Octoplus Pro boxes/dongles.
What you get:
When we confirm your payment and process your order, you will receive your personal Octoplus account with 400 credits on it for purchasing the Octoplus Unlimited Sony Ericsson + Sony Activation.
How to Activate Octoplus Unlimited SE + Sony
Important! Before performing any operations on Sony/Sony Ericssons phones, make sure your Octoplus box/dongle is connected to PC and its smart card is detected by the Octoplus software. Otherwise you will be charged for each performed operation!
Octoplus Unlimited Sony Ericsson + Sony Activation - Outstanding Features
Decode
Repair IMEI
Repair TA
Read/Write TA
Read Info.
Write Firmware
Octoplus Unlimited Sony Ericsson + Sony Activation - Supported Models: *
Sony Ericsson
E-series: E10a, E10i, E15a, E15i, E16a, E16i
LT-series: LT15a, LT15at, LT15i, LT18a, LT18i
MK-series: MK16a, MK16i
MT-series: MT11a, MT11i, MT15a, MT15i
R-series: R800, R800a, R800at, R800i, R800x
SC-0-series: SC-01B
SK-series: SK17a, SK17i
SO-0-series: SO-01B, SO-01C, SO-02C, SO-03C
ST-series: ST15a, ST15i, ST17a, ST17i, ST18a, ST18i
U-series: U20a, U20i
WT-series: WT19a, WT19i
X-series: X10a, X10i
Z-series: Z1i
Sony
C-series: C1504, C1505, C1604, C1605, C1904, C1905, C2004, C2005
E-series: E6553
LT-series: LT26i
ST-series: ST21a, ST21a2, ST21i, ST21i2, ST23a, ST23a2, ST23i, ST23i2, ST26a, ST26i
Please note that Repair IMEI / Decode procedures won't work for phones Sony Ericsson manufactured after 12W10 (12W11, 12W12, 12W13 and later) (phones with so-called new security). There are no restrictions on Sony devices manufacturing date.
You can find phone's production date on the sticker under the battery: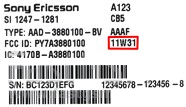 * Developer provides support only for those phones which are on the list of supported. Not all servicing features can be applied to some supported models, due to difference of hardware / software versions.